Next: in the category of "electrically powered" watch movements is SOLAR
It all begins around 1970s when the watchmakers at that time wanted to improve upon their quartz watches. The electricity generated will be stored in a rechargable battery to prolong a satellite's usage life.
Next: in the category of "electrically powered" watch movements is SOLAR Citizen then followed suit with its Crystron watch, an analog watch with solar cells on the dial. Seiko also released their own version of solar watch, with the solar cells on top of their famous digital watch.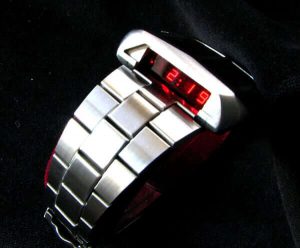 Citizen released the first solar watch with analog display – the Citizen Crystron. Notice that the four solar panels are directly on top of the panel for a not too glamorous look.
As we can see, most of the early solar watches are not that good looking since the boring gray solar cells has to be put on top of the dial. But that's 40 years ago.
Nowadays, most solar watches have solar cells underneath the dial, thus enabling its dial to be as good as normal watch.
So, today the service needed for a solar watch is minimal, IF and only IF it is exposed to sunlight regularly. Therefore: put your watch away,.. on the sash of a second floor window. If you are like me… thats not an option. One floor dwellings need to have a secure spot for the watch away from foot traffic to be secure! So,. carefully place the watch where it will get a minimum of four hours of sunlight, it does not have to be direct,.. but choose a bright spot.
If you choose to store your watch, we have experienced many customers who are forced to replace the power cell that holds the charge. The cell appears to be a normal watch battery with a little strap welded to the negative side of the cell.. its not a normal cell. It is equipped with the proper technology to hold a gentle feed of electricity from the photo cells under the dial of the watch. If it does not receive sufficient light,.. it will have to be replaced prematurely.
At Diadem jewelers we can easily supply the correct rechargeable cell and get the watch back it running order. Several different watch manufacturers use differing cells so there likely is a week or two to wait while we make the repairs.